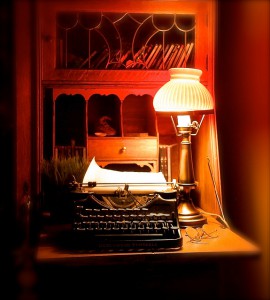 The first rule of a successful novel is to entertain.
A successful novel is also morally true and emotionally engaging.
A successful novel always emotionally engages the reader and passes onto the reader some true moral meaning.
If a novel is not entertaining, no one will read past the initial few pages. If it's not morally true and emotionally engaging, they will not continue to read to the end.
That's why a successful novel is first and foremost:
Entertaining
Morally true
Emotionally engaging
---
The Parts of a Novel:
As a minimum, an entertaining story will contain a protagonist who is driven to achieve an objective but faces conflict as someone, or something, attempts to stop him. It then concludes with an emotionally satisfying ending.
As you plan your novel, use the following as a starting point:
Who is your protagonist?
What is her objective?
What is the conflict? Who or what is trying to stop her?
What ending would be the most emotionally satisfying for the reader?
Let's look at each one in more detail….
---
The Protagonist (aka lead or hero):
The protagonist is the vehicle that carries the reader through the story. Remember the protagonist drives the story.
It's essential that the reader is emotionally invested with the protagonist, otherwise the story will not hold the reader's attention. The reader will stop reading if they don't care what happens to the protagonist.
In rendering your protagonist ask yourself the following:
Who is the protagonist/main character?
What does she want?
Why can't she get it? Where's the conflict?
Who's trying to stop her?
What happens if she fails?
---
The Objective:
The objective is the engine of the story. It fuels the forward motion and keeps the protagonist moving.
An objective can be either the drive towards something or the drive away from something. Seeking a treasure, love or a better life or avoiding death, prison or poverty are examples.
A successful story will have only 1 primary objective for the protagonist. This becomes the story question…Will the protagonist reach her objective?
To truly drive the story, the objective must be vital to the protagonist. It must be big. Is it life or death? Wealth or poverty? Love or loneliness?
---
Conflict:
It's not enough that your protagonist has an objective, there has to be a reason why he can't reach it…that's conflict.
Conflict is two or more opposing forces.
Imagine that there is a line on the ground. You're at one end of the line and if you walk to the other end, without stepping off, you win a million dollars.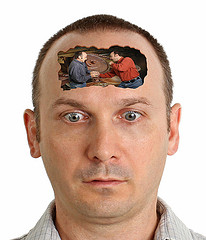 Easy, peasy…right?
Now, add a little conflict. You're at one end of the line and on the other end of the line is someone else. The first person to walk from one end to the other, without stepping off, gets a million dollars, but somewhere near the middle of the line, you two meet face to face.
Now, imagine that your grandmother is on one end of the line. All she has to do is walk to the other end without stepping off and she wins a million dollars, except facing her is a death row inmate from San Quentin.
All she has to do is get past the convicted mass murderer and she's a millionaire. On the other hand, all the murderer has to do is get past Granny and he's a free man AND a millionaire.
Only one person can win. That's conflict. That's interesting.
Conflict is what keeps us engaged in a story. It's why we watch sports. In sports, the objective is clearly defined, but only one athlete or team can win.
A novel will have an overarching conflict that drives the story, but each scene will also have conflict which drives that particular scene.
The degree of interest in a story is directly related to the degree of conflict, otherwise known as tension.
---
An Emotionally Satisfying Ending:
The ending is what a reader will remember most about your novel.
As a novelist, your main purpose is to create an emotional experience for the reader. A reader picks up a novel in hopes of becoming emotionally engaged with the characters, to struggle with them, love with them, cry, laugh and suffer with them.
Through these emotional experiences, a story builds to a concentrated emotional peak. At that moment, the novelist delivers to the reader the answer to the story question… (Did the protagonist reach her objective?)…and with it, a final emotional release.
This release is like a drug. This is the reason people read novels.
---
Structure and Scenes:
In addition to a Protagonist, an Objective, Conflict and an Emotionally Satisfying Ending, a novel must be properly structured and built scene upon scene in a dramatic three act structure, i.e. Act I, Act II and Act III.  More on this in later posts.
---
I've written an email course on How to Write a Novel. It's based on my nearly 30 years of study and experience. It begins with story theory and then shows, step-by-step, how I plan and organize a novel before I begin writing. Where possible, I use popular movies to show solid story structure at work. It's a fun and fast way to learn structure. This How to Write a Novel email course is available at no cost. It's my gift to you. Enroll here.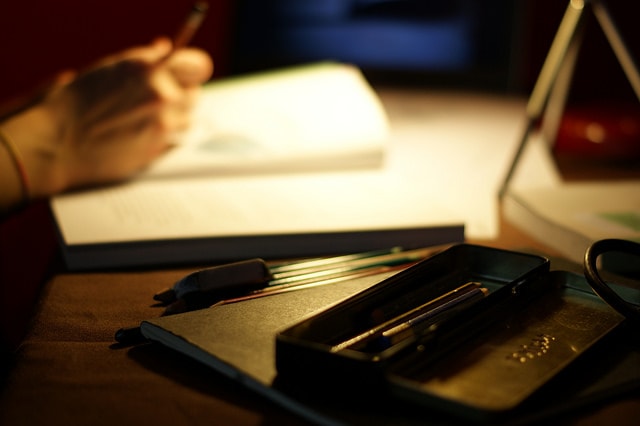 Photo Credits: Lamp, typewriter and specs by John Levanen, Conflict by Scott Contini, Desk with Pencil Case by Nicola Sapiens De Mitri