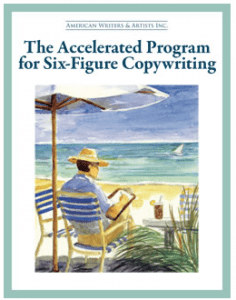 Not recommended.
I purchased The Accelerated Program for Six-Figure Copywriting from American Writers and Artists Incorporated (AWAI) in October of 2014 and finished the course in four months.
The Accelerated Program for Six-Figure Copywriting is a long eBook.  It's expensive and poorly organized, and regardless of what AWAI promises, few people will succeed with it.
There are easier and more lucrative ways to earn money as a writer. If you're serious about making money as a writer, this is my #1 recommendation.
The Accelerated Program for Six-Figure Copywriting and Long Sales Letters.
The Accelerated Program for Six-Figure Copywriting teaches how to write a long sales letter. Originally, these long sales letters were 12 to 22 pages long and designed to be sent through the mail. This is known as direct-marketing. As the name implies, direct-marketing is the process of marketing directly to the potential consumer. It's the letter you get in the mail asking you to donate to the animal shelter or an email promoting an investment newsletter.
Now, most long sales letters are used online, although that is changing. The marketing trend is away from long sales letters. While the principles of long sales letters still apply, the trend is towards sales videos and sales funnels which use a multitude of marketing devices to gain sales. So even if you mastered long sales letters, you'd still need to understand sales videos, landing pages, PPC campaigns and how to set up sales funnels in order to be competitive as a copywriter in this niche.
The Industry.
Direct marketing is a multi-trillion dollar a year industry. Copywriters who write for the direct marketing industry are the highest paid copywriters in the world.
Usually, a direct marketing copywriter is paid a fee upfront plus a percentage of all sales. What they earn from sales is often dramatically more than what they are paid up front. I know of one copywriter who earned over $1.85 million from a single letter, although he admits that's the high end. Still, it really can be quite lucrative.
You see, a direct-response copywriter is fundamentally a salesman who sales through writing. That doesn't mean you have to be good at face-to-face sales. That requires a different skill set. A salesman who sells through writing is someone who can write persuasively. That's what The Accelerated Program for Six-Figure Copywriting is all about. It teaches you to write persuasively.
Once you know how to persuade others, you have a very powerful skill at your disposal. Please use it for good.
Think about this…
A face-to-face salesman is forced to sell to one person at a time. Compare this with a direct-response copywriter who might sell to millions of people with a single letter. Now, can you see how lucrative direct-response copywriting can be?
If you like to write,  it's worth the effort it takes to master copywriting. Please don't gloss over that last sentence. To be successful with any form of copywriting, it is essential that you like to write. Otherwise, you'll be miserable trying to make this work for you.
Essentially, a direct-marketing letter is an ethical attempt to persuade the reader to take a specific action. The desired action might be to buy something, make a donation, try a free trial or provide some information.
The Accelerated Program for Six-Figure Copywriting teaches you how to write persuasive copy. It's the foundation for entering the direct-response industry. It does deliver everything the ad promises, but you have to do the work, dig in and make the information your own. You'll probably need to take some additional training for a specific niche and learn how to effectively market your services too.
It's Big.
The Accelerated Program for Six-Figure Copywriting is nearly 700 pages and includes two writing assignments which are critiqued by AWAI staff. Really, the course is a very long eBook and, unfortunately it isn't organize very well. Because it is so comprehensive, it's not an easy course to get through. It'll require commitment on your part to finish it. And it'll take commitment to succeed as a copywriter once you complete the course.
What You Will Learn.
Here's what you can expect to learn in The Accelerated Program for Six-Figure Copywriting. These are the broad categories inside the program.
Getting Started: The Opportunity and Lifestyle
The Fundamentals of Persuasive Writing
The Structure of Direct-Response Sales Copy (This is the heart of the program).
Choosing a Niche
Getting Clients
Who is The Accelerated Program for Six-Figure Copywriting for?
It's for writers who want to become professional copywriters. If you're an online marketer and just want to learn to write better copy for yourself, this course would be overkill. Although the ad for The Accelerated Program for Six-Figure Copwriting targets anyone who wants to make money and be their own boss that is misleading. This is NOT a make big money quick opportunity. It takes years to get established writing long copy.
Keep in mind, writing copy is work, often relentlessly hard work. It's not the breezy, indulgent ideal presented in the advertisements for The Accelerated Program for  Six-Figure Copywriting. If you can't sit down and write for hours, day after day, copywriting is not for you.
Also, once you finish the program and feel you are competent to write direct marketing sales letters, you'll have to work at finding clients. This can take months of working the phone, sending letters and following up. Self-promotion is a critical part of a freelance copywriter's life. Even with constant marketing, the income can be sporadic.
Then, once you have a client, you'll have to negotiate fees and sign contracts. Clients can be difficult to work with and you'll need several clients in order to make a reasonable income. Each client is like a boss, so you'll effectively have several bosses, although technically you work for yourself.
Reality Check.
Pursuing a copywriting career is NOT a get-rich-quick scheme. It can, however, be the single best idea you ever had. Clayton Makepeace, Quick Start Copywriting System.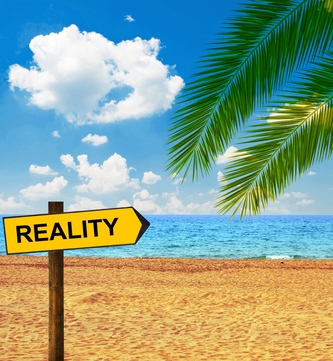 While the ad for the program implies anyone can write direct-response sales letters, I think a more accurate assertion is that anyone who enjoys writing for hours and who also has the motivation to master the skills can do it.
If you don't enjoy writing, trying to learn copywriting will only bore and frustrate you.
Just to be clear, fat pay checks will not magically appear in your mailbox when you finish The Accelerated Program for Six-Figure Copywriting. You'll have to market yourself. The program explains how to do this but does not go into detail. There is a lot more you will need to learn in order to market yourself successfully, land clients and successfully complete writing assignments.
AWAI has additional courses that focus on building a copywriting business. These too are expensive.
Expect to Fail.
I was told by a man who hires direct response copywriters that a newbie should expect to fail in the beginning. A new writer's first few letters are usually not profitable, but once your letters start making money for your clients, more clients will seek you out.
Don't expect to make 6 figures your first year. The Accelerated Program for Six-Figure Copywriting is merely the beginning. You'll need to work hard to build your confidence. You'll also have to work the phones and face rejection, a lot of rejection. If you don't have the personality for selling yourself, I recommend a much saner approach. You can read about it here: How to Earn a Darn Good Living as a Writer.
How Much Does The Accelerated Program for Six-Figure Copywriting Cost?
The course is expensive, too expensive for anyone who's just starting out. It costs $350 and remember, it's just an eBook. Going $350 in the hole is no way to start a new career. You won't get wealthy spending money.
Plus, if you buy The Accelerated Program for Six-Figure Copywriting, you'll be in AWAI's sales funnel. They'll hammer you with offer after offer. If you're not careful, you'll quickly spend several hundred dollars more chasing the dream they dangle in front of your nose.
Before buying The Accelerated Program for Six-Figure Copywriting, particularly if you're new to copywriting, I strongly recommend that you read The Everything Guide To Writing Copy-All You Need to Create Copy That Sells
. It costs about $15.
After you read The Everything Guide to Writing Copy, if you still want to get The Accelerated Program for Six-Figure Copywriting, you may want to search online for a used copy which I've seen for less than $25.
Also, there is a ton of free information online about copywriting.
 A Word of Advice.
If you buy The Accelerated Program for Six-Figure Copywriting, AWAI will immediately begin trying to sell you more courses, programs, workshops and membership to specialized online communities. I found this confusing and distracting. The Accelerated Program for Six-Figure Copywriting is very comprehensive and will take you months to get through. My advice is to ignore AWAI's attempts to sell you more stuff until you are through The Accelerated Program for Six-Figure Copywriting. After you finish the program, you'll know better which additional course will best serve you.
The Bottom Line.
I do not recommend The Accelerated Program for Six-Figure Copywriting, unless you are familiar with copywriting already and enjoy writing long projects. Keep in mind that the deepest learning happens when you study successful sales letters and write, write, write. All the information in The Accelerated Program for Six-Figure Copywriting is available for free on the internet. You just need to do a little research and devote yourself to learning it.
On the other hand, if you want an affordable option for starting an online business where your writing skills will give you a tremendous advantage, I recommend reading How to Earn a Darn Good Living as a Writer.